Ritualising Psychedelic Use
Using rituals for psychedelic experiences can help to help bring a sense of presence, clarity, and feelings of safety to the experience. Ritual can also help connect to something bigger and help to mark the occasion out as something special, something that is beyond an everyday experience.
Before talking about how it can help with psychedelic practice, though, I'd like to give some examples of ritual and how it's used by high performers as a means to help them in some way focus their attention, enter a specific state, and perform better.
Athletes' Rituals
Many professional athletes use rituals. For example, a football player having very specific ways of doing things before either heading out onto the pitch or when setting up for a penalty.
One ritual I love is used by one of the greatest sport teams in the world: the New Zealand All Blacks rugby team. At the beginning of every game the entire team performs the Haka.
The Haka is a traditional ancestral ritual from the Māori people of New Zealand. It is a fierce dance and chanting ritual that connects the team to their ancestors, to their history, and to the lineage of their land.
This ritual in particular helps the players connect to something beyond themselves, to connect to something bigger. By doing so, they understand that they are part of a lineage that extends beyond the players on the pitch. With its fierce nature, I imagine the ritual also gets the players absolutely pumped up, blood pumping in their veins, ready to face anything when the first whistle blows.
Creatives' Rituals
Another example is writer Stephen Pressfield, whose books have been a huge inspiration to me. Pressfield says a prayer to the muse every morning when he enters his office to write. For him, his office is a sacred space. The prayer is one part of a series of actions he does before starting to write that also includes putting on specific clothes.
Other examples that I love are from musicians who have backstage rituals before going out on stage for a show or performers who have some special sentence or prayer that is said before stepping out onto stage or heading out to film an especially intense scene.
Rituals Develop Focus
Rituals are normally performed in such a way that the person is highly focused on the task. The way they carry out the ritual is not in some absent-minded, haphazard way, but rather in a highly focused, very attentive, and precise manner. Doing actions in such a way helps to bring someone into the present moment and helps to focus the mind. Indeed, if someone does anything in a very meticulous manner it can seem as if they are performing some ritual. I am reminded of some of the Ramen chefs I saw in Japan, whose attention to detail made it fascinating to watch and their work an art and craft in itself.
Ritual helps to enter a different state of awareness and can therefore be used as part of a psychedelic session.
Using Rituals for a Psychedelic Experience
Following a Set Structure
Ritual can also mean something that is done every time in a certain order. This can be almost a kind of a muscle memory, in that knowing that one thing proceeds to the next can enable you to clearly move from one thing to the other, giving your whole attention to it without engaging the part of your mind that has to make decisions (asking yourself, "What should I do next?"). For example, having a morning ritual allows you to wake up and not think about whether you should have a coffee or take a shower. If you have a set morning ritual, perhaps you just wake up, get a glass of hot lemon water, stretch, meditate, and then take a cold shower. You did not need to think, you just move from one to the next. This can be helpful when taking psychedelics, as making decisions can be very difficult and it can be very helpful to have a structure in place that you simply follow, moving from one stage to the next.
Ritual as a container
Rituals can also help mark the beginning and end of events. Just like a frame around a picture or piece of art helps to bring more attention to the contents, a ritual can be used to frame a psychedelic experience, to focus your attention to what is going on inside, and function as a type of container for the experience. Having this clear delineation can be useful for psychedelic ceremonies because it helps in feeling safe during what can be a wild and crazy experience.
Using rituals to help contain psychedelic experiences can help to bring feelings of safety to the experience. Ritual can also help connect to something bigger and help to mark the occasion out as something special, something that is beyond an everyday experience.
Ideas for Rituals
There are many ways to ritualize the taking of psychedelic substances, so here are just a few examples. Maybe you already have a pre-session protocol, but here are some ideas:
Washing
Washing yourself and arriving to the session clean can help to feel more comfortable and relaxed. The sensations of water can also help bring you to your body, especially if it is in a natural body of water or a cold shower. A hot bath is also wonderfully relaxing.
Clothes
Wearing a certain or special set of clothes. Maybe you have a lucky top, a favourite or most comfortable t-shirt. Maybe you would like to dress up for ceremony as you would for any special occasion. If you put on a shirt for work, why not put on something specific for a session?
Prayer
Saying a prayer can help to humble yourself and to open yourself up to possibilities of experience. Saying a prayer, religious or not, is in some way acknowledging that there are things that are out of your control.
Giving thanks
This is, again, humbling and a good practice for that reason. I think it can be good to give thanks even just as a mental exercise before consuming a substance. You're again acknowledging that you are part of something larger and also being thankful and appreciating what you do have. I also think it is a nice way to close the session and a great opportunity to develop gratitude.
If you are with friends or a group you can maybe just go once round the group with each person, saying one thing that you are all grateful for. This can help to bring up warm feelings at the beginning of the session and start out on a positive note.
Altar
Having an altar can be a nice addition to a session or ceremony and needn't be a religious thing. It can be as simple as having a set place with items that are dear to you. These could be photos of people, like family/friends, an image of someone you have a great respect or admiration for, or precious memories that you have. These things can be comforting to have by your side when you journey. What they represent symbolically will be magnified and can be of great support. When you think of them you gain some type of strength or inspiration.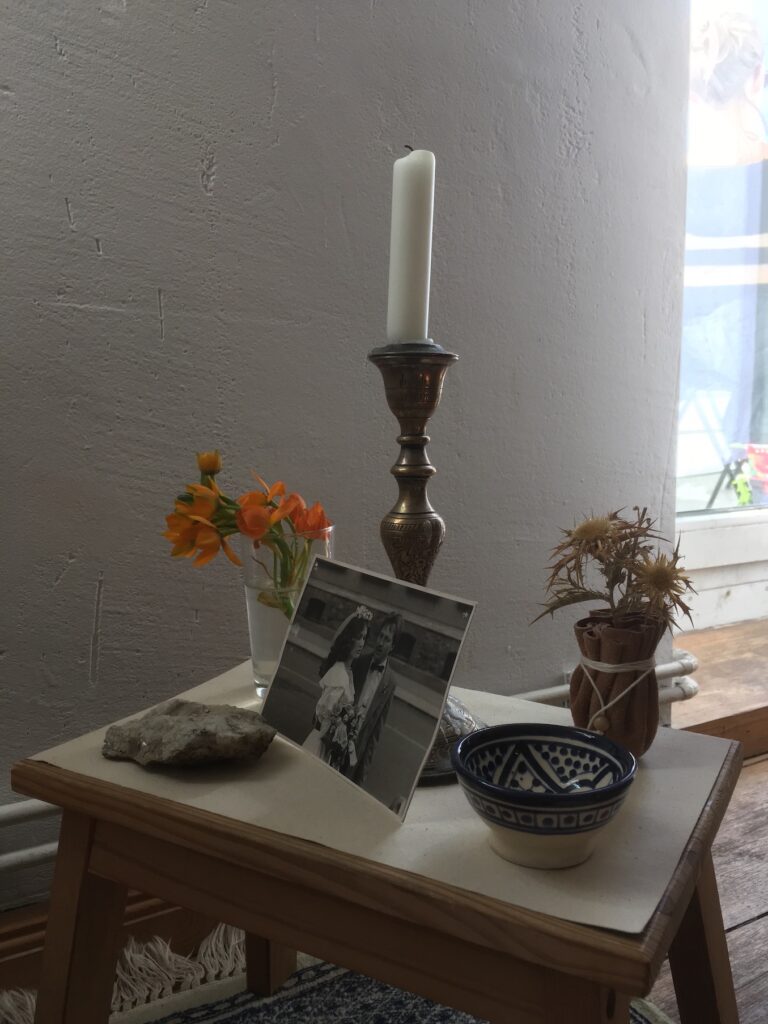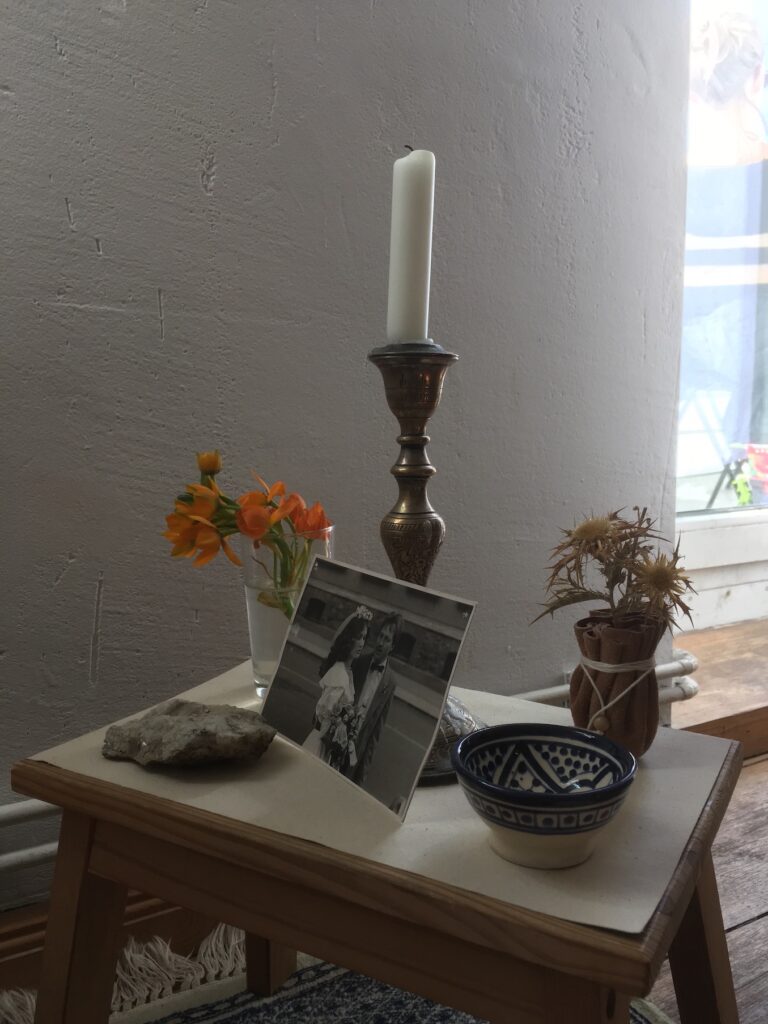 The items that you choose may also be carefully chosen based on the theme of the session. For example, if you are thinking about your family, add some items and pictures that remind you of your family members. Or, if you are considering creativity, perhaps you add some of your heroes or role models from music, art, or science to your makeshift altar.
Ritualise Your Psychedelic Sessions
Ritual needn't be complicated and you can start very simple and small. A friend of mine once put on bombtrack while we were taking our first dose of MDMA, which I thought was a nice touch. Ritual needn't follow any kind of preset idea, you can be creative and come up with your own, too.
https://mapsofthemind.com/wp-content/uploads/2020/12/tea-720x480-1.jpg
480
720
John Robertson
http://mapsofthemind.com/wp-content/uploads/2020/08/MAPS-MIND-LOGO-29.png
John Robertson
2020-07-20 01:30:49
2022-06-23 19:13:36
Ritualising Psychedelic Use