Desert Bound: A Meeting With Peyote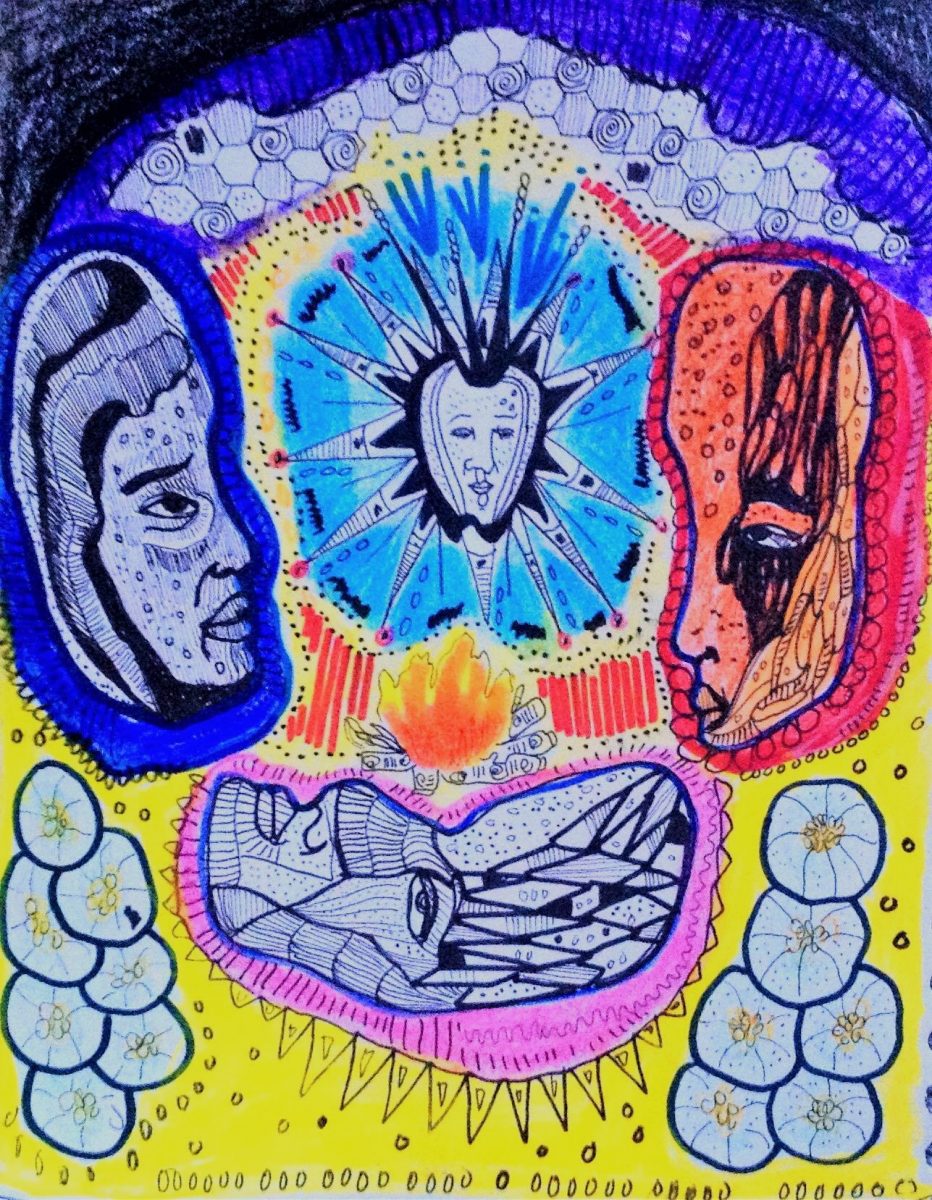 This was originally written for The Mainland Trading Post.
With the sun overhead Pedro exhales a lungful of smoke, passes the pipe on, and goes back to checking the group's food supplies in his bag. "I'm so high" Molly says amused as she gazes around at the empty village street we're sat on the side of. I take the pipe on its way through, the sweet taste of Mexican ganja fills my lungs and I get excited about our imminent adventure; we're heading into the desert in search of peyote – the small, spineless mescaline containing cactus that grows in this part of Mexico.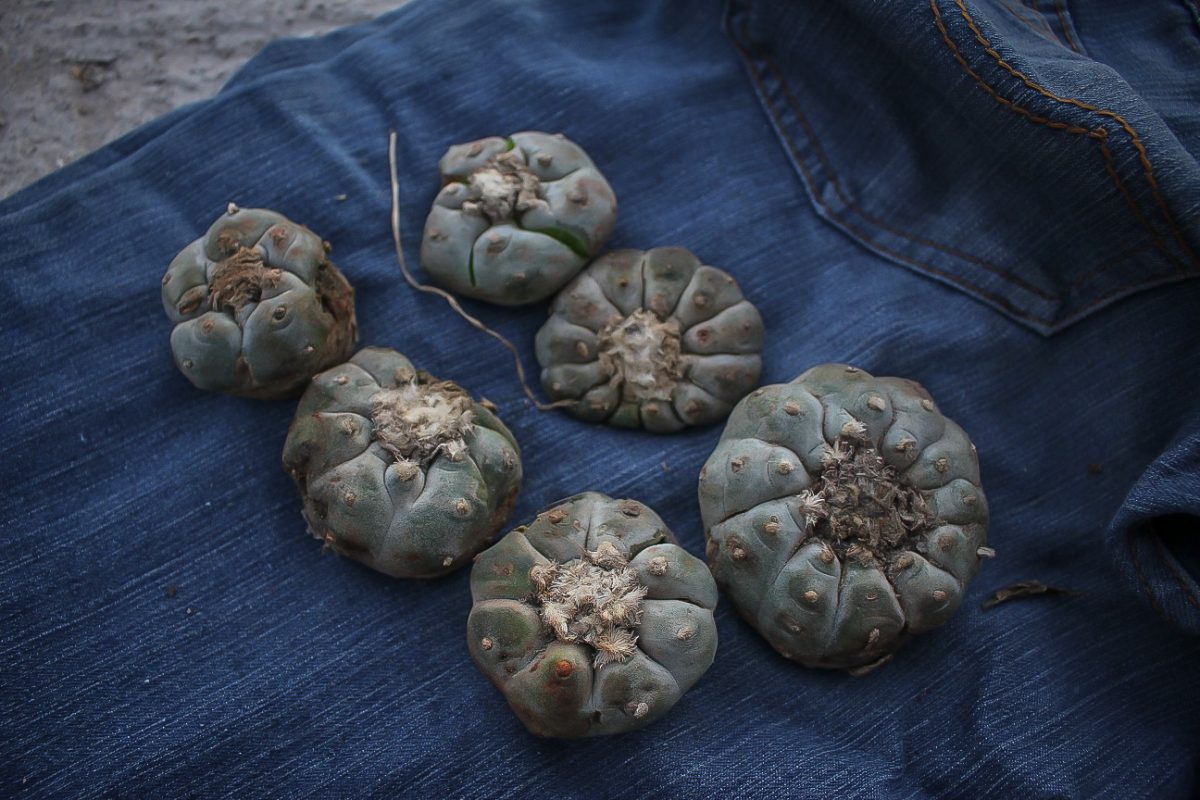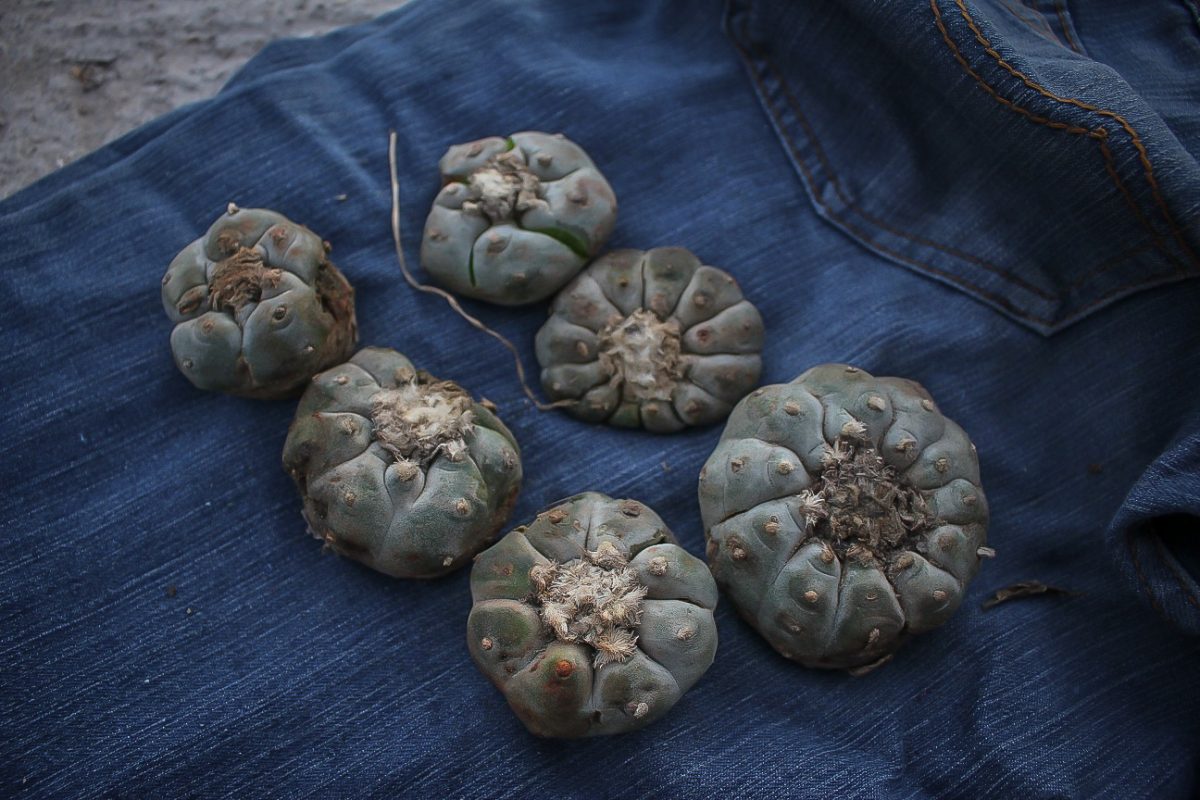 There's six of us in total, I met the others the day before, and they are exactly the sort you might expect to be making this journey; Pollo and Lalo, a pair of Mexican gypsy punks – complete with mandala face tattoos, mohawks and bongo; Molly and Lily, two young blonde English girls who've been hitchhiking around North America for the last 18 months, and whose main interests include astrology and beat literature; and Pedro, a long-haired pothead from Mexico City, half-hippy-half-city boy, and our crew's desert guide.
We've actually already eaten some peyote for breakfast that morning – I'd acquired six heads from a Jewish priest in town the day before (another story) – and we now finish off the last of the disgustingly bitter green flesh. We haven't eaten a whole lot, but already I begin to feel a giddy and energetic wakefulness as we set off.
We walk past the last small houses and out the edge of town, following a dust track that leads us out into the desert, literally walking out of civilization and straight into nature.
The panorama is undeniable; the landscape is flat for what must be hundreds of miles ahead of us before our view is eventually cut off by mountains that are probably months away on foot. The earth is pale and dry but there is life in small single shrubs that are scattered around everywhere. We see hanging clouds showering an area way off to our right, and looking back I see the huge shadows and outlines of another set of clouds hanging over the mountains we left behind this morning. It's hard to fathom what the distances might be, but the vast wilderness has a calming effect. It's peaceful in a humbling way.
The area of desert close to town has practically no peyote – already ravaged dry from decades of visits by seekers and peyoteros – so Pedro is leading us to what he calls the 'hikuri zone', an area he knows of that's deep into the desert and rich with the cactus.
Desert Hysteria
Stepping through a gap between shrubs Pedro turns to us; "Remember that we are in nature, so just watch where you step" he says, apparently referring to snakes. The area we're headed to is a good few hours away so Pedro sets a steady pace and the group splits by native language; Pedro leading the way with the punks up ahead whilst I fall behind with the girls.
My 5 liter water bottle swings by my side and sweat trickles down my brow. The further we go into the desert, the more different I feel; disentangled from the world and society's trappings, somehow elevated from it, and still giddy. The girls are getting silly and Lily is giggling at the fact that "everything looks so green on peyote".
With Pedro's warning in mind we begin discussing about what to do if we encounter a snake and the girls agree that Lily will pretend to be a snake so that Molly can demonstrate to us the appropriate response. Lily crouches and makes a hissing winding path towards Molly, who standing her ground just looks at Lily and says, totally deadpan, "fuck off". Somehow the scene is absolutely hilarious and I slam the water bottle to the ground as I double over cracking up; I've hit a hysterical level somewhere between the peyote, the heat and the pipe.
Something's Out There
After a short but welcome water break a couple hours in – in which it's clear that everyone is a bit spaced out and weary from walking in the heat – Pedro leads us on. The town is now a distant memory and the silence and isolation of the desert amplified. Molly and I fall to the back of the group and she asks me if I believe in aliens – the area is a hot spot for appearances and other strange occurrences. I think for a moment – I don't really know my own answer – and she warns me "Be careful what you say… because they are listening to you" Her response makes me uneasy and I tell her "I don't really know". "Ooh, he's on the fence, get him!" she says as though she is actually speaking to the aliens herself, and the possibility that they are out there and will now be on their way to visit me out in the desert tonight suddenly seems very real. Something about the boundless open landscape makes palpable the feeling that anything – including an encounter – is possible, because it shows me how unfathomably massive the world really is; that exist huge swathes of the earth's surface that I've never seen and never will, whole fields of experience that are so far removed from my own and will forever elude me. It all reminds me of how little I really, truly know. Awe and mystery of the unknown are in fact the reason I'm there trampling through the desert – what drives that innate and irrepressible urge to discover, explore, and experience – and Molly's hint at a potential encounter leaves me unnerved in a weirdly thrilling way.
Little Green Jewels
Spotting a pair of yuca trees which mark our turn, Pedro leads us on a new course and we're told to keep our eyes peeled as we enter peyote territory. One of the girls spots one, poking its small head above the earth with its leathery green skin. I can tell Pedro wants to pull it out to start building our stash, but being our first find its not to be picked – its our guide – and he observes the ritual of making an offering to maintain some authenticity as our Mexican desert guide. Bending down he sprinkles a few lentils by the plant and we split off as the search begins.
Lalo pumps his bongo as he goes and his beat provides the soundtrack for what is like a bizarre psychedelic easter egg hunt. I wander gazing around the desert floor. I walk past Pollo sitting on the ground in front of a find, 'gracias pachamama' he says, offering thanks to the spirit of the earth, kissing his hand and placing it on the earth, kissing it again and placing it on his forehead. Lalo's beat suddenly stops and he lets off a squeal of excitement; he's found his first one too.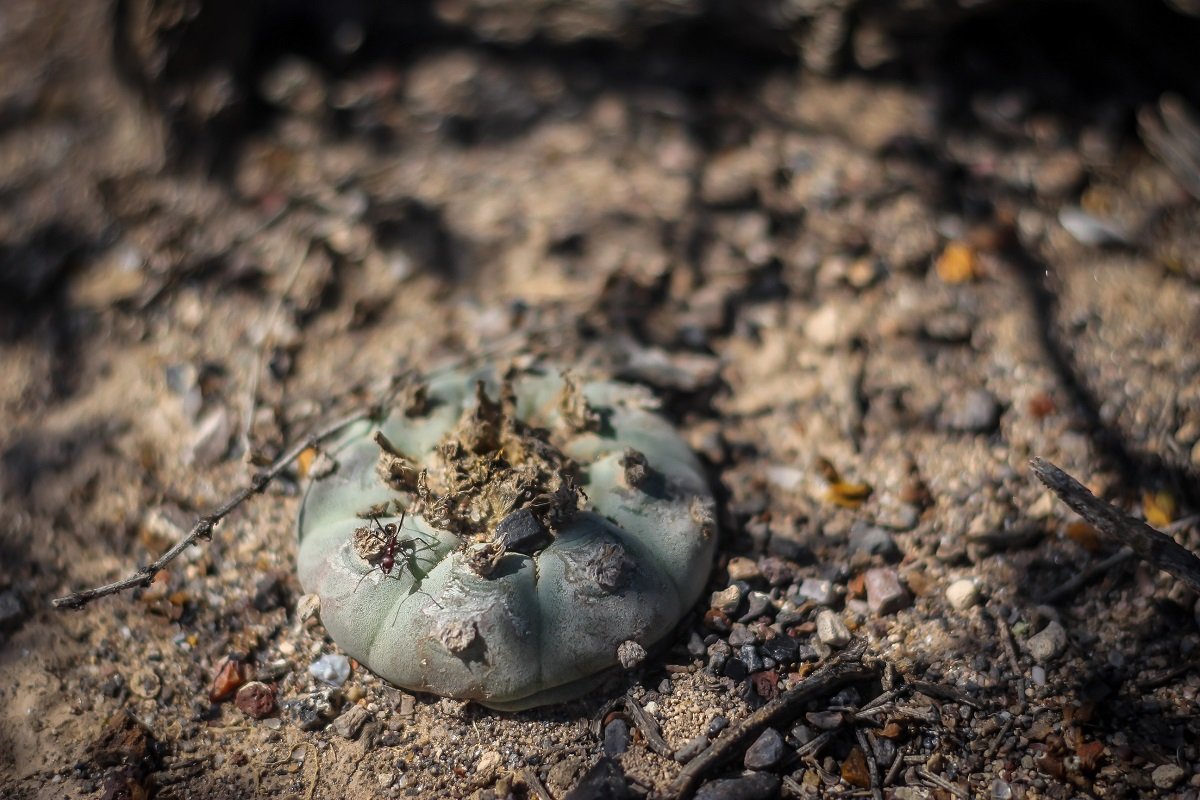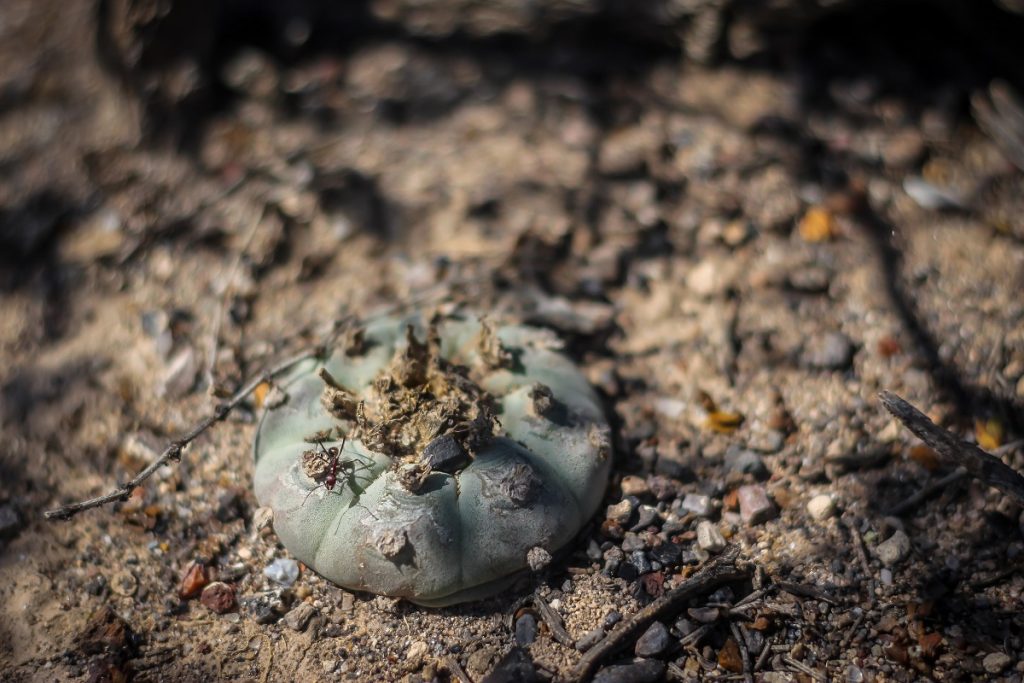 I spot one, and bending down I'm taken back by its appearance. The skin glows, its shade of green shifts; its somehow radiating life. The soft small head seems unnatural here amongst the dry earth, something about it is alien and mysterious. It has a rare beauty, so I leave this one be. I stand back up and walking away see another, then another. They all seem incredibly precious, like elegant jewels hidden scattered around the desert, and gazing at their beauty I don't really want to take them out from the earth. It seems wrong, as though its killing something special and sacred and pure. I walk over to some of the others and before I've said anything Molly gushes the exact same sentiment "but they're so beauuutiful". "Yes, but remember, they are here to help us" Pedro insists, probably annoyed that we're wasting time when we should be picking for the evening ahead. He does however, have a point, and I didn't walk for hours through the desert just to admire their appearance, so I start collecting heads.
Night Falls
With about 20 heads collected between us, we meet by a tree to set up the tents. We get a fire going just as the sun's setting and sit round. Snacking on more heads as the surrounding desert fades into darkness, we hear coyotes howling off in the distance. The altered space peyote has taken me to is different to what I expected; it has left me feeling wired but somehow zoned out. Despite eating more, my trip plateaus and I lie restless yet exhausted. The view overhead is pristine, and looking up at millions of stars, I reflect on what has been a long, hot, bizarre day.
When I'd first read about peyote about 7 years before, it seemed almost mythological; an exotic psychoactive plant that grows in the North American desert, consumed by natives and indigenous peoples over thousands of years for ceremonial and spiritual purposes. To my younger self it was a fairy tale, something of another world, some exciting legend that you come across in obscure books and cult films. It sparked my imagination and curiosity of the world, gave me a hunger for experience – but I never seriously considered it would be part of a journey that I'd actually undertake. To be lying there, many years later, under the stars out in the desert, is something surreal and life affirming. Even without an alien encounter, the desert trip has shown me something; anything is possible.
But the night isn't quite over, there's one more surprise.
One Last Journey
Pedro pulls out the pipe and loads it up again. "You should know, there is changa in there" he says with a mischievous smirk on his face. Changa is a smoking blend that contains DMT – "the spirit molecule" – possibly the most powerful psychedelic known to man. In other words, a complete mind-blower.
What happens next seems to happen very quickly; the pipe makes its way round the circle; Pedro, Pollo – who offers thanks to pachamama again- Lalo, Lily… everyone taking a deep hit from the pipe and passing it on, closing their eyes and sitting silently, off in whatever universe they've gone to. Before I know it the pipe is passed and in my hand. Really I'm nowhere like as mentally prepared as I'd like to be – five minutes before I wasn't even considering that I'd be smoking changa – but at the same time there's no way I'm going to pass up on this. Holding the pipe in front of me I pause to take a deep breath. I see Molly – who's opted out of the multi-verse roulette due to a traumatic changa experience days prior – crouched behind Pollo, peering at me over his shoulder, and I can see the fear in her eyes at what I'm about to do. I light the end and the mix glows orange as I pull. It tastes horrible as I feel the smoke make its way down my throat and into my lungs where I hold it in.
I exhale, and my vision begins to morph, the small stones in the circle around the fire become warped, growing to the size of boulders and shrinking back again, my vision zooms in strange ways as I'm being pulled in. I look around and see the others around the fire. They all have their eyes closed. Of course, that's what I need to do. I close my eyes and enter a spectrum of flowing colours. Luminous oranges and pinks meld into bizzare multi-layered forms as they fly through me, or I'm flying through them – I have no idea. The colours I see are from outside the spectrum of usually visible light, they are dazzling and the forms they carry approach from in front and pass through my eyes, flowing through and out the back of my head. I anchor to my breath for a reference point, some ground amidst the chaos, and I'm able to sit back passive to the kaleidoscopic whirlwind. The flight is intense, but as quick as it came on, the experience fades away. The brilliant colours gradually fade and I'm left in darkness, with a weird empty feeling – like something inside me has been wiped clean.
Last to smoke, I'm last to come round, and as I reopen my eyes everyone is just sitting quietly round the fire in their own space – apart from Pedro who has already got up and has his hand on Lily's shoulder in what looks like an inappropriate attempt to forge a bond.
'Man, that changa is something else' I say finally, looking over at him. He rips into laughter. He's laughing at the truth of what I say, the ridiculousness and outrageousness of it all.  Sometimes things are just so inconceivable or so weird that you can't help but laugh. And this was one of those times.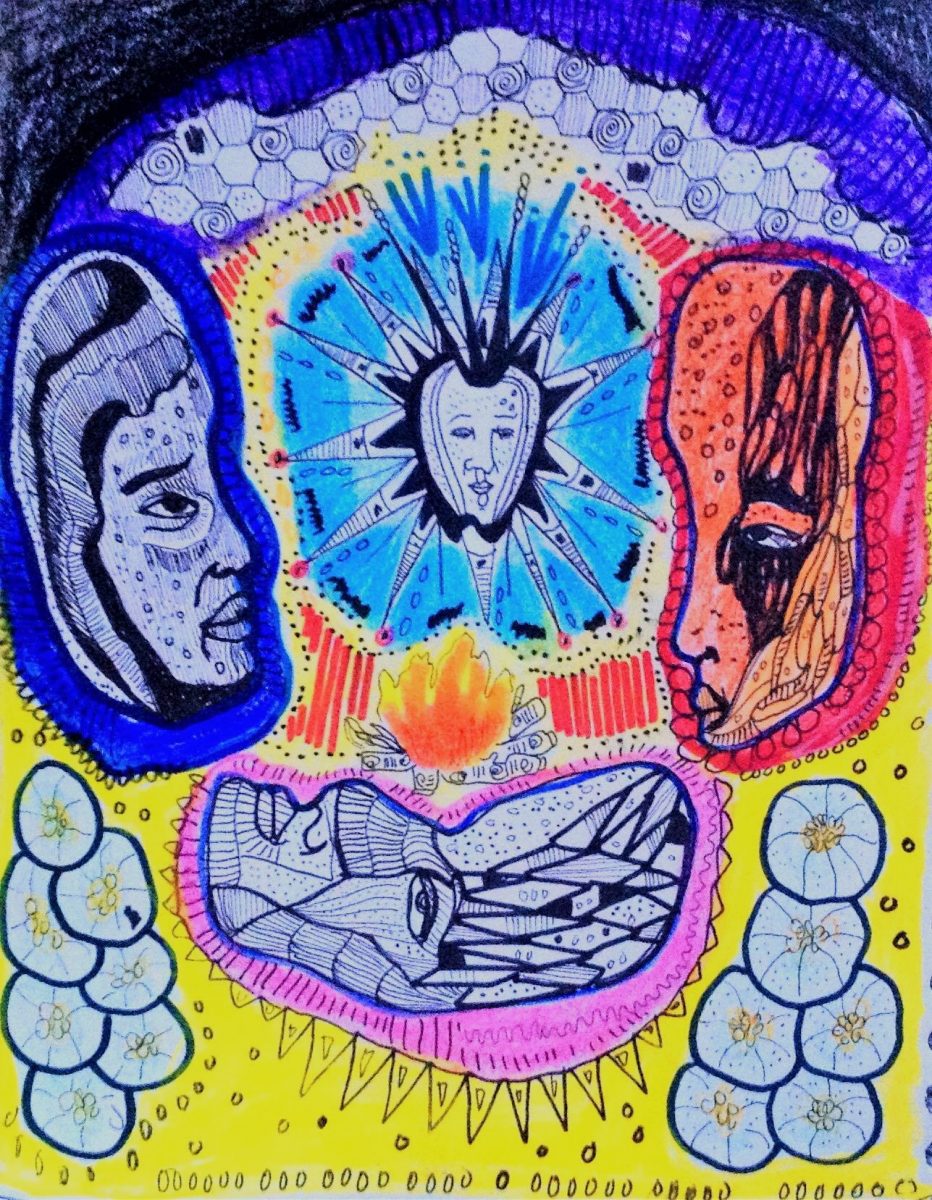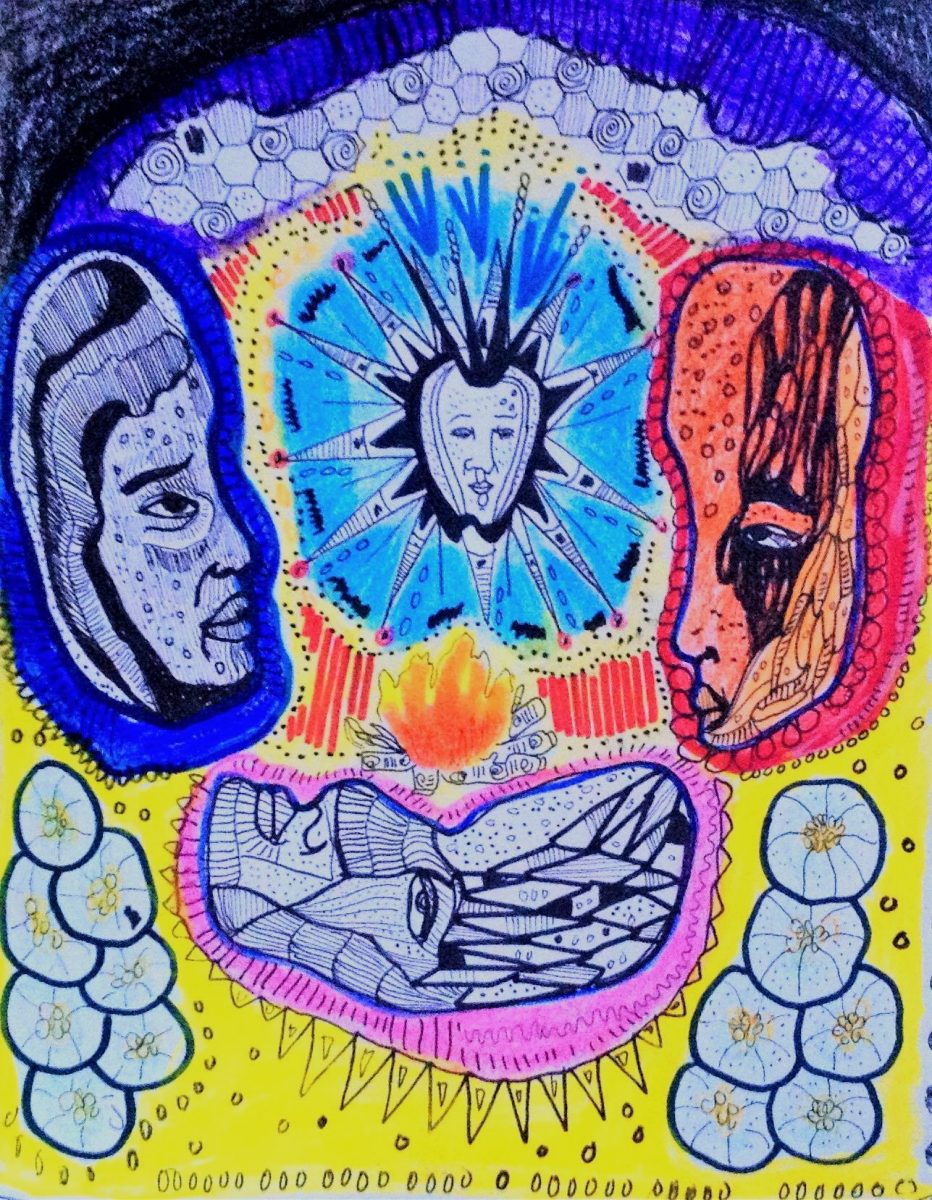 Sketch by 'Lily' (Lucy Porter) depicting the changa trip round the fire.
https://mapsofthemind.com/wp-content/uploads/2017/05/12-lilys-changa-art.jpg
1200
932
John Robertson
http://mapsofthemind.com/wp-content/uploads/2020/08/MAPS-MIND-LOGO-29.png
John Robertson
2017-05-20 09:21:25
2021-07-10 11:26:04
Desert Bound: A Meeting With Peyote