How To Make The Most Of Your 10-Day Vipassana Meditation Course
10 Day Vipassana meditation courses are available all over the world. This post is intended to give you an idea of what to expect on the course and, if you decide do one, to make the most of your 10 days. Whether you're a complete newbie to meditation but eager to learn, have already started to meditate and interested to learn more, or are already a dedicated daily meditator and want to go deeper into the practice; this is for you.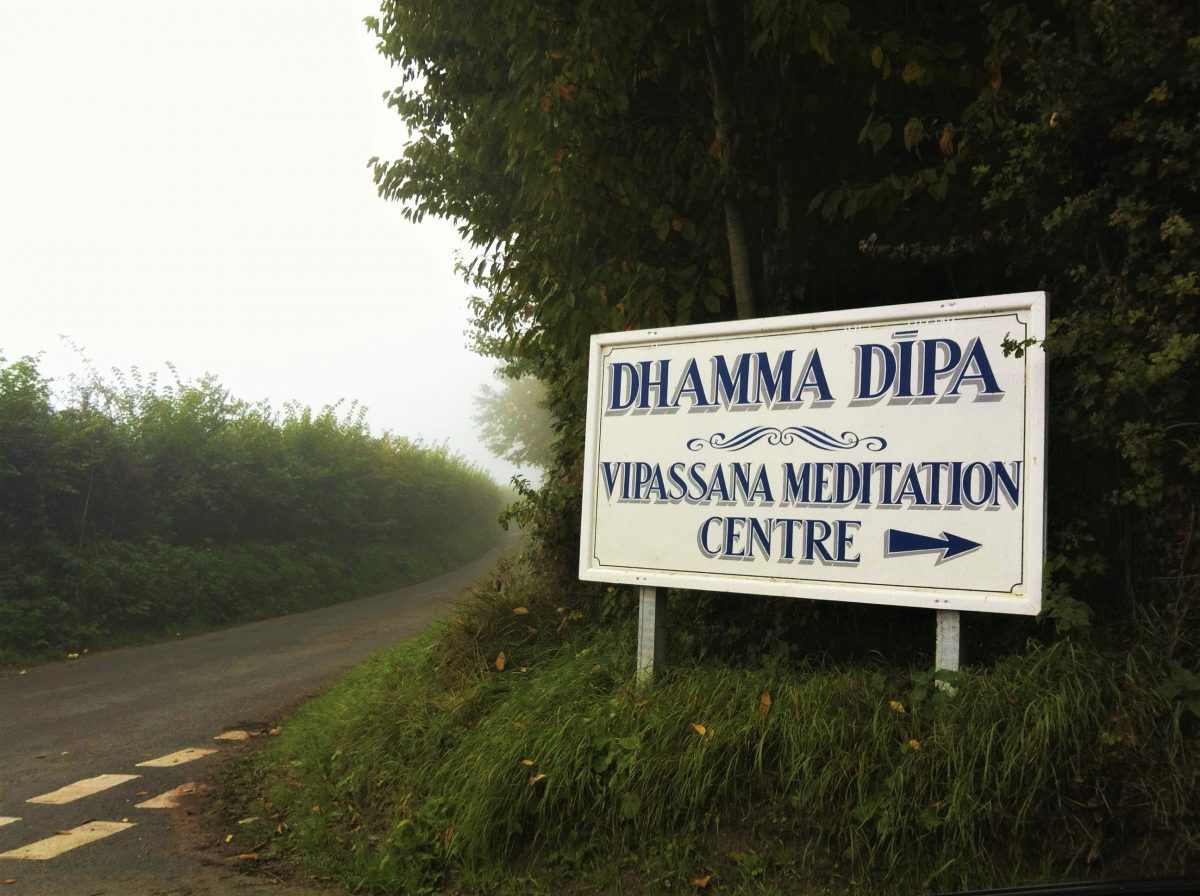 What To Expect
You Will Seriously Learn to Meditate
Perhaps you're aware of all the purported benefits of meditation and are eager to learn but would like some guidance. Maybe you've started but aren't sure you're doing it right or that you can sense any tangible change in yourself… that's normal; meditation is a slow burner… the practice is a subtle one and the effects are gradual. Whatever the case, completing one of these 10 days courses will clear up any doubts you may have about meditation. Over the duration of the course you will systematically learn how to meditate, and gain a lot of practice too. There are teachers on hand to give you guidance should you want it: they will answer any questions and respond to any doubts you may have. Everything is arranged and set up for you to be able to focus solely on learning and practising meditation. It really is the ideal environment to learn because as well as the support on hand there are….
No Distractions
All external distractions are removed; you aren't permitted to talk, touch or even make eye contact with other students. You aren't allowed to read, write, listen to music, use a phone or use any electronics or other means of communication or entertainment. You are cut off from the outside world and there is complete gender segregation. You are basically living like a monk for 10 days. All meals are taken care of and a bell is rung every morning to wake you up. You have nothing to worry about and can dedicate your time and energies to meditation. And it's a lot of time too, here's how the daily schedule shapes up:
4:00 a.m.                           Morning wake-up bell
4:30 – 6:30 a.m.               Meditate in the hall or in your room
6:30 – 8:00 a.m.               Breakfast break
8:00 – 9:00 a.m.              Group meditation in the hall
9:00 – 11:00 a.m.             Meditate in the hall or in your room
11:00 – 12 noon                 Lunch break
12:00 – 1:00 p.m.              Rest, and interviews with the teacher
1:00 – 2:30 p.m.                Meditate in the hall or in your room
2:30 – 3:30 p.m.                Group meditation in the hall
3:30 – 5:00 p.m.                Meditate in the hall or in your room
5:00 – 6:00 p.m.               Tea break
6:00 – 7:00 p.m.               Group meditation in the hall
7:00 – 8:15 p.m.                Teacher's discourse in the hall
8:15 – 9:00 p.m.                Group meditation in the hall
9:00 – 9:30 p.m.                Question time in the hall
9:30 p.m.                             Retire to your room; lights out
If You Already Meditate: The Course Will Enable You To Go Much Further
If you are already meditating and want to take your practice and focus to the next level, I seriously recommend you find the time to do a course. For the reasons given above, it is an environment most conducive to meditation. When I went into my first course I'd been meditating 20-30 minutes everyday for the 4 months leading up to the course. Subtle though they were, I'd started feeling the benefits of meditation after the first month. Meditation by meditation, I slowly improved my focus and gradually felt change in my day to day life. More often I would find myself aware of where my mind was, able to place it to more beneficial areas of focus and to view things from a more positive perspective. The progress was tangible but if I'm honest; it was slow.
However, on this ten day course the depth of my focus and the ability to retain my attention skyrocketed. I remember at the end of a one hour meditation on day 3, I couldn't believe that I had maintained my focus on my breath for the entire hour. Yes, the entire hour. There was no moment when I realised I wasn't meditating and had to bring my attention back to my breath: my attention never left my breath. Prior to that I'd never managed a full 20 minute meditation without losing my attention and having to bring it back a few times. Rather than 'coming round'- realising I was thinking of something and then bringing my attention back, I was able to sense when my attention was about to drift off before it had actually left, and was able to pull it back to centre before it had gone anywhere. This may sound strange but this is heightened awareness: the meditation was working.
This course is full on. That is the reason why you can make so much progress in such a short amount of time. All you do is meditate all day, everyday. You pack in almost 100 hours of practice into 10 days. By comparison, if you meditated 20 minutes every single day, it would take you 300 days to reach 100 hours of practice, almost 10 months! By this measure you pack in a month's practice into each day on the course… not bad. Not only that but beause of the environment the quality of meditation is superior and the continuity of practice has a snowball effect on your concentration.
Advice
Keep Plugging – One Meditation at a Time
Don't expect to feel enlightened or have all the answers to your life after a few hours. Stick at it, maintain your patience and keep going. It will be testing and there will be times you won't want to do the meditation properly. You´ll be tempted to go out for a walk, take a toilet break, or just ease up on your meditation and let yourself drift into thoughts and daydreams. This urge will be reinforced if you feel like you're not making much progress. On top of that the 10 days can feel like a lifetime and slacking off for a bit might not seem such a big deal. If the amount of time seems overwhelming or you're struggling for motivation try to focus on the current meditation and do that one as best you can. You'll make it to the end, can take a break, and go again for the next meditation. Remember the aphorism: 'you get out what you put in'. Meditation is a skill and like any other skill, the more you practice the better you become, and the more you stand to gain. Of course at times it may be beneficial to take a break but don't kid yourself. You are there to meditate so make the most of your time there, at the end of it all you will be glad you did.
Finish The Course
If you sign up to the course, complete it. Every course has people drop out and this doesn't surprise me. On my first course I wanted to up and leave almost every other day! I questioned what the hell I was doing and wanted to get out of there back to where I was comfortable and life was familiar. But in the end I didn't and I'm so glad I stuck it out; I even went back for another the following year, and intend to go once every year. The point is it's not easy (seriously). If you're imagining a relaxing spa-like retreat, think again. You will be working with your mind everyday, and the days are long. Your body will ache at times (trust me) and there will likely be times when you question what you're doing, are convinced (or have convinced yourself) 'it's not working' or 'it's not worth it' and want to leave. The mind will play all sorts of games to try and regain familiarity.
Be clear of your intention and why you are there and make a strong commitment to see it out. Remember that you have taken a spot on the course and if you drop out you've used a space that someone else could have taken- you will have spurned an opportunity for someone else (as well as yourself) to learn this technique of meditation.
For myself, and from speaking with others, the general feeling on the last day (when the rigorous schedule is eased up and meditators are again allowed to speak to each other) is one of accomplishment, jubilation and joy. If you don't see it out you'll also miss out on this, and I have to say the final day is a really wonderful occasion that's hard to explain to someone who hasn't been through the process and come out the other end.
Don't Mind the Philosophy; Do the Meditation
Every evening there is a one hour discourse (like a lecture) from the founder of the course. It is a welcome break from the meditation and often very amusing. He talks about what you may be going through, the technique, tells tales and philosophies. Despite the claim that the course has no religious affiliation, the tales and messages presented are essentially Buddhist. Seemingly ironic, this does actually make sense as the original teachings of the Buddha were essentially non-religious and anti-dogma. Buddhism is, as Alan Watts aptly put it, 'the religion of no-religion'.
However strong your aversion to religion may be (and in many respects I don't blame you) I urge you not to be put off. Personally I enjoyed the discourses and most people do but I know of some people that had a problem with them and it disrupted their meditation and hampered what they could've potentially got from the course. My advice would be if you don't agree with what is being said, then don't worry about it. Just continue the practice and come to your own conclusions. You needn't agree with everything that is being said to remain on the course or to gain benefit from meditation.
Likewise, there are some hymnlike mantras/chants played during some meditations. To some people it feels cultish or weird. If it bothers you, I would say don't worry about it. It needn't affect your meditation or experience negatively, in fact, it's actually there to help!
Abolish Your Expectations (or at least don't expect too much)
The course is a very personal experience and what people take from it both during and after can vary greatly. I first heard about vipassana from a Chinese girl who told me that the course had changed her life in a profoundly positive way (this was a major catalyst in my decision to go – I'd signed up for one within a few weeks of her telling me this). Likewise, on my first course I met a younger guy who went in a miserable rut and then left elated with apparently all the answers he wanted (!).
However, the perceived sense of change isn't as dramatic for everyone. For most, many of the effects are less discernible and more subtle. I spoke to a guy on his second time round who said he didn't really realise how much his first course had affected him until months later. Indeed, while I felt rejuvenated and generally more level headed immediately after, I too was unaware of a few things that had changed in myself until a long time after. If you are expecting to feel great and have figured out all your life's problems, you may well be disappointed. Try to abandon your expectations and to treat the course as an experiment. Be like a scientist, follow the procedures and observe the results. Go with an open mind, work at the meditation and take what comes as it is without pre-conceived notions. This way, and with some time and perspective, you will really find out for yourself how this type of meditation affects you.
– – – – – – – – – – – – – – – – – – – – – – – – – – – – – – – – – – – – – – – – – – – – –
That's it! There are many personal accounts online if you are curious to find out more but I would recommend that if you decide to go, try to avoid reading them so as not to shape your expectations too much. In summary, if you are serious about meditation, I'd absolutely recommend the course. Beginners learn the ropes and experienced meditators go deeper.
If you decide to go, best of luck!
– – – – – – – – – – – – – – – – – – – – – – – – – – – – – – – – – – – – – – – – – – – – –
Have you been on a vipassana meditation course? What advice would you give to a first-timer? Leave your comments below.
https://mapsofthemind.com/wp-content/uploads/2016/06/img_2869-3.jpg
896
1200
John Robertson
http://mapsofthemind.com/wp-content/uploads/2020/08/MAPS-MIND-LOGO-29.png
John Robertson
2016-06-14 03:14:15
2020-07-25 19:06:57
How To Make The Most Of Your 10-Day Vipassana Meditation Course