5 Things I Learnt From A Tripsitting Workshop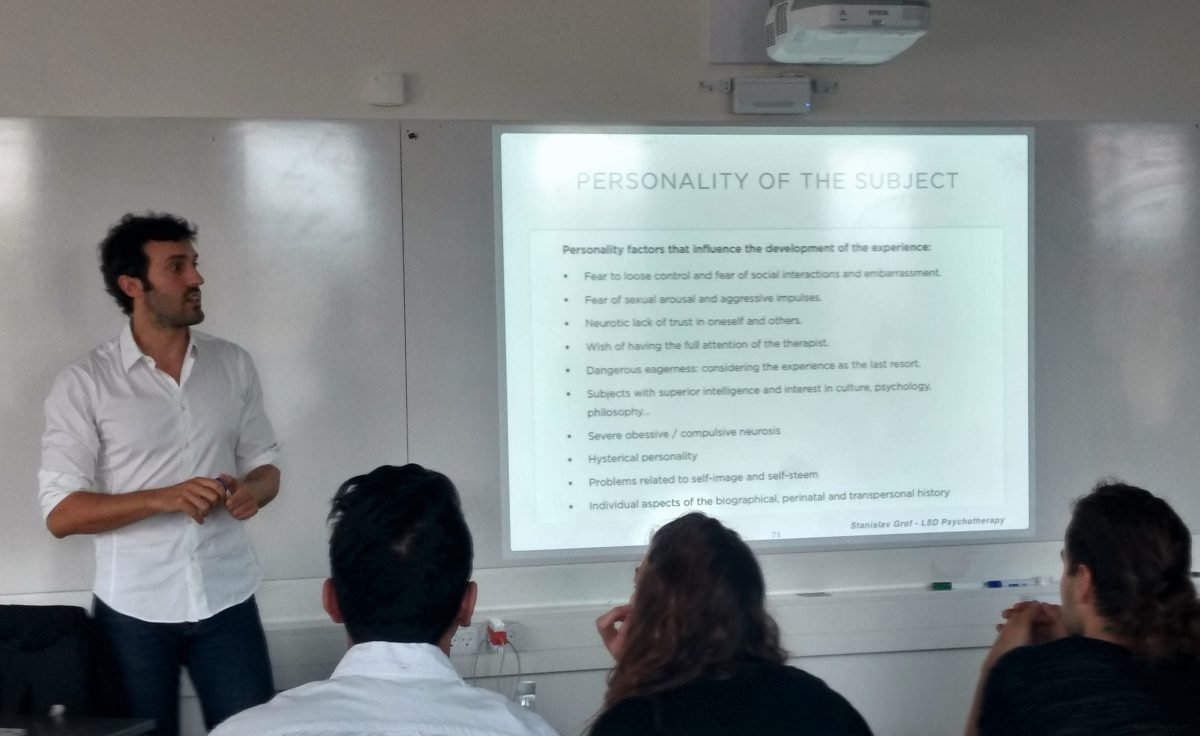 During my recent visit to Copenhagen I attended a tripsitting workshop as part of a psychedelic conference. I'd never been to anything like this before so I was pretty curious to see what it would be like. And no, we didn't look after or watch people tripping their nuts off, but it was pretty cool nonetheless. Here's an overview.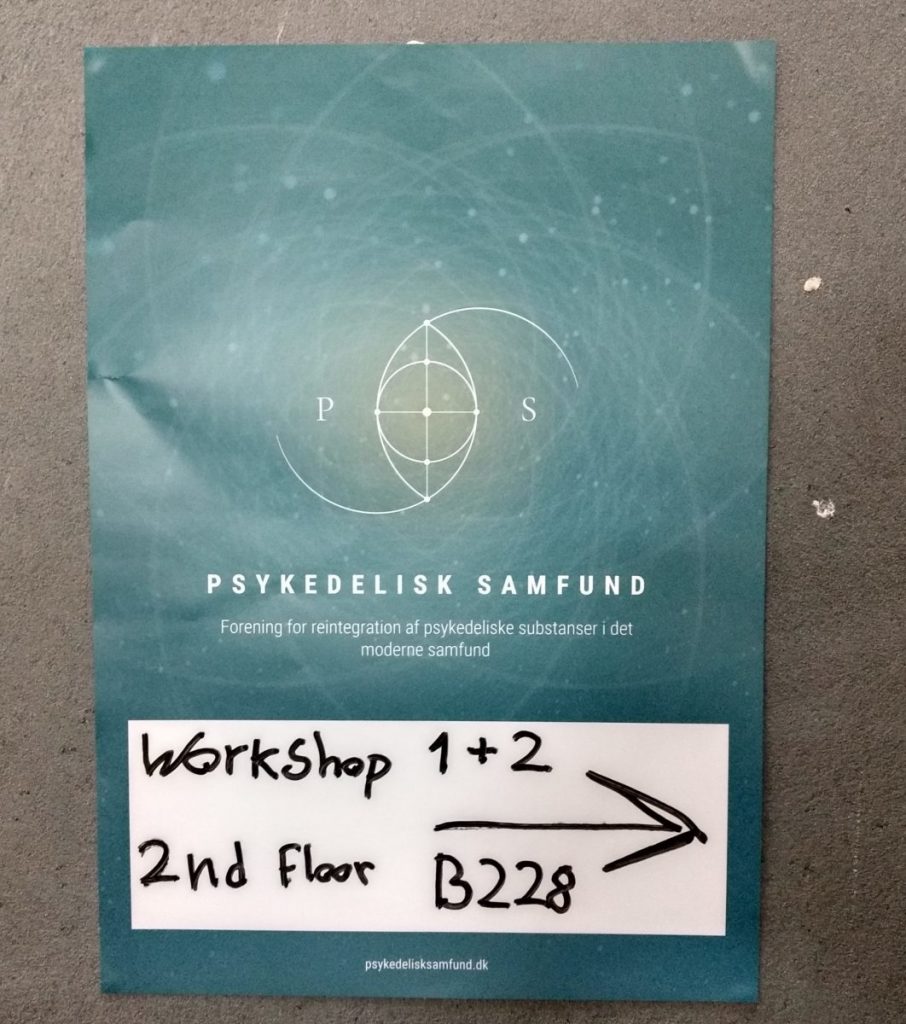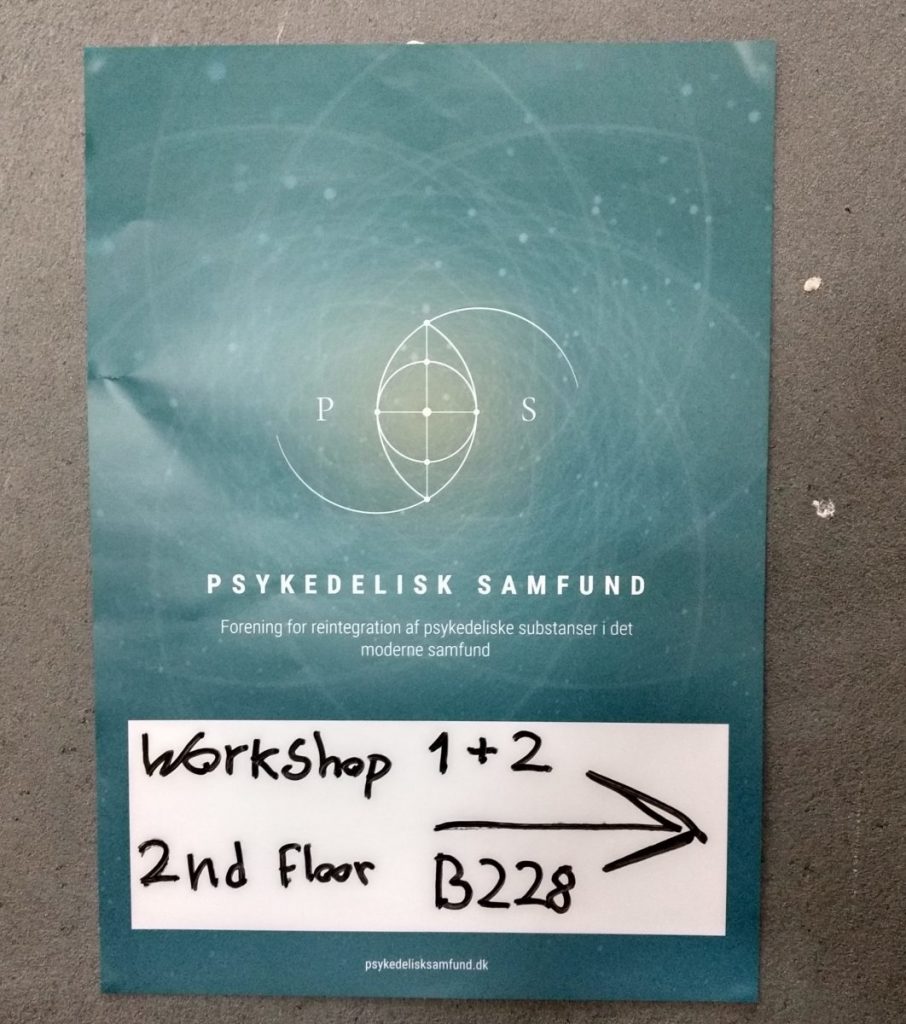 The workshop was given in a seminar room at a building of Copenhagen's Metropolitan University College – fittingly, a university of applied sciences. The workshop was full and there were 40 of us there, a mix of men and women from their 20s to their 60s. From appearances you'd never guess that this was a group of psychedelic enthusiasts.
I ended up sat next to the only other Brit in the room, who turned out to be Rosalind Watts – a clinical psychologist who's part of the research team at Imperial College London and who worked on their groundbreaking psilocybin for depression study – she was also giving a presentation at the conference the next day. It's good to know that those involved with research are topping up their knowledge and still seeking development – especially as it seems that the progress of the psychedelic movement will depend largely on the results of clinical trials in research settings.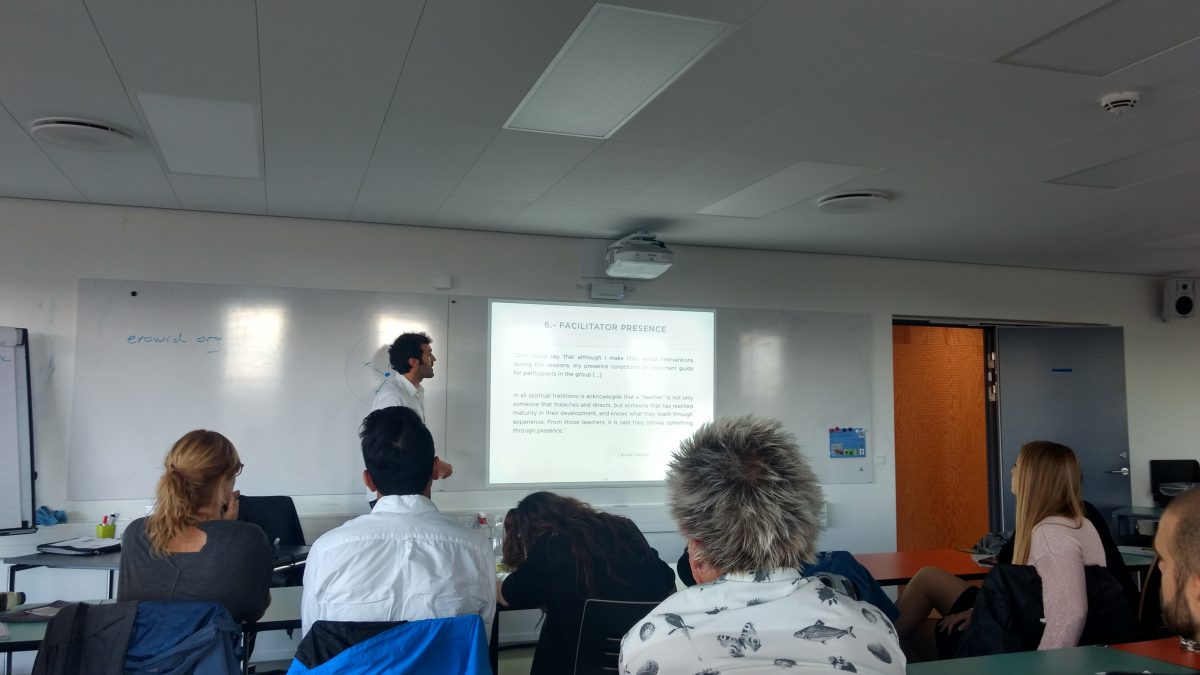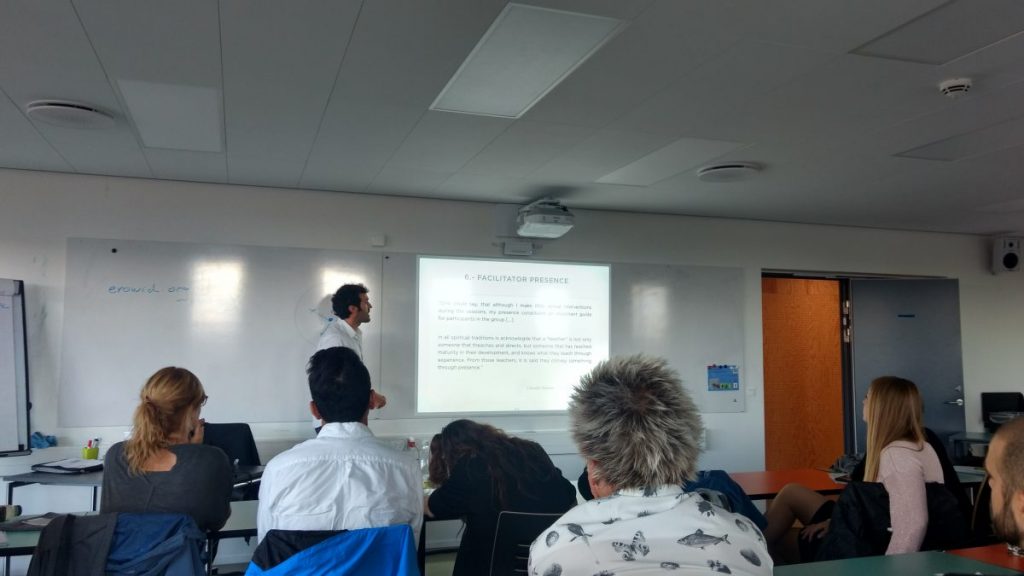 Being in an atmosphere of like-minded people was great – the room was full of people who have an understanding of the potential of psychedelics and want to learn more. As it's still a fringe movement I don't often get these real-life interactions where I can freely talk about this kinda stuff so having that sense of community was the perfect backdrop for the workshop.
The workshop was led by Marc Aixalà, a Spanish engineer and psychologist who works as an integrative psychotherapist. Amongst his experience with psychedelics Marc has worked as a coordinator for Kosmicare – a company that provides emergency attention to people going through difficult drug-related experiences at large festivals. Throughout the workshop Marc told us some stories from his work to illustrate points and it was pretty clear that he has considerable experience in this area. I could totally see why he was asked to lead it.
The workshop was basically a presentation and while more interaction might've been good, a lot of ground was covered. To give you an idea, topics covered included: the effects of different psychedelic substances and the challenges of a sitter unique to each one; the differences between sitting roles- shaman, sitter, facilitator, guide and therapist; how to screen people for a psychedelic session and how to prepare for it; and how personality can affect reaction to the experience. And loads more, it was packed with useful information.
The small group size allowed for interaction amongst us and for Marc to stop for questions when people had them. Though there was definitely a level of professionalism from Marc and most attendees were clearly there to learn, the atmosphere was relaxed and there was room for some laughter.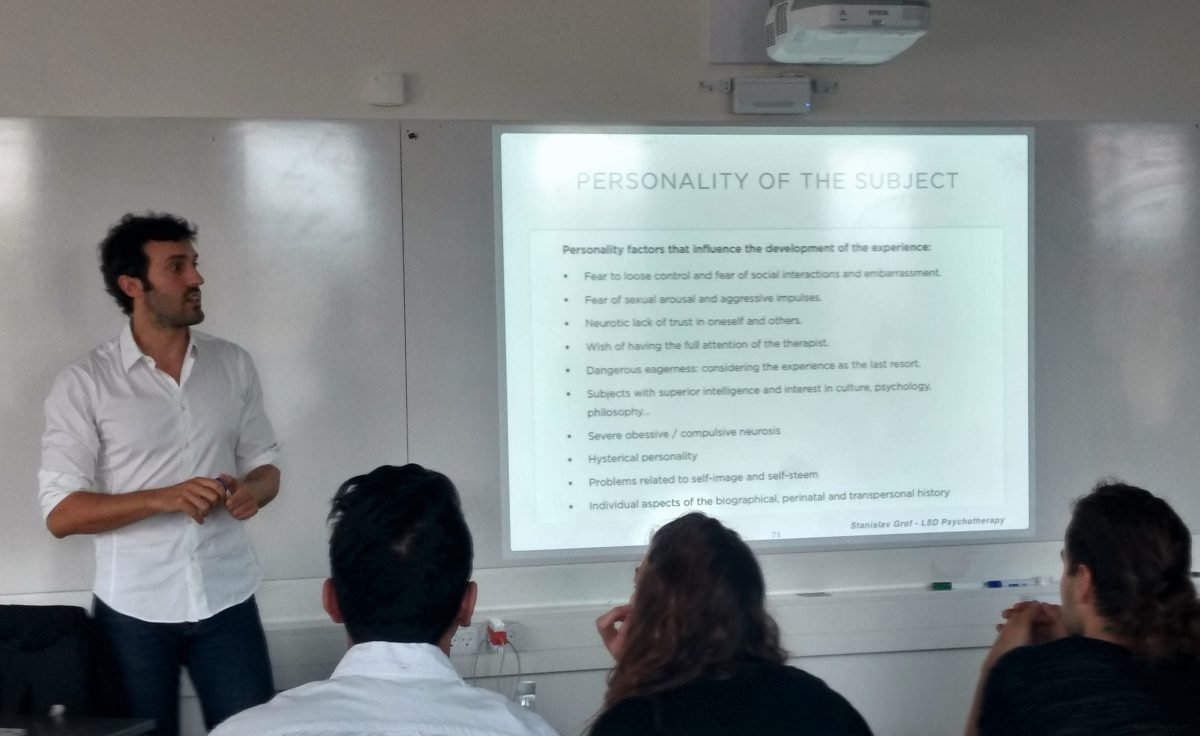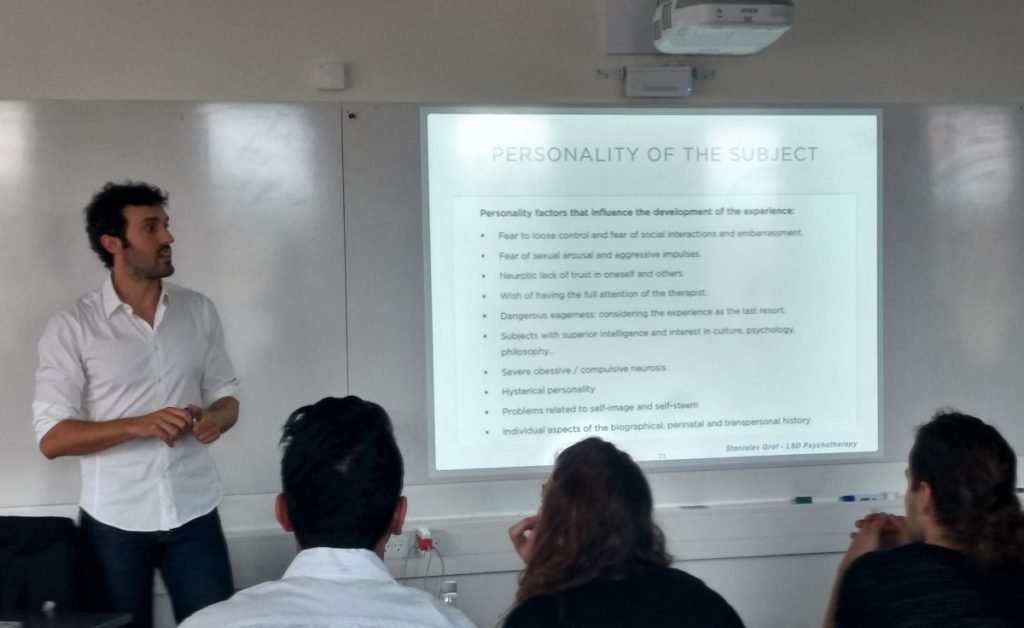 It was the first time Marc had given this particular workshop and he'd prepared too much material to fit in to the allotted 4 hours so we ran over by about 40 minutes. I was actually really happy about this as I was learning a lot and had nowhere else to be that afternoon.
Overall it was excellent. It surpassed any expectations I had and I found the whole thing to be very mentally stimulating. It even answered a few questions I didn't know I had. To finish, I'd like to share a few things that came through from the workshop.
1. Healing Happens Through Intensification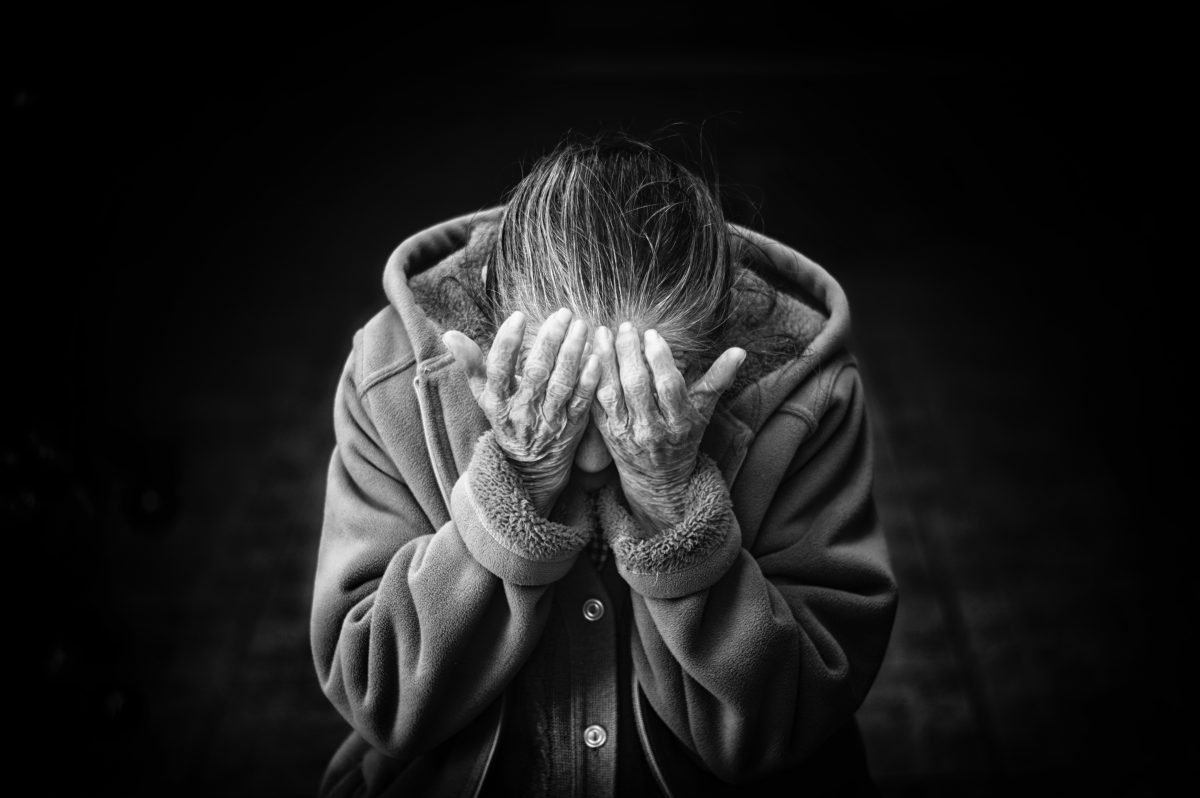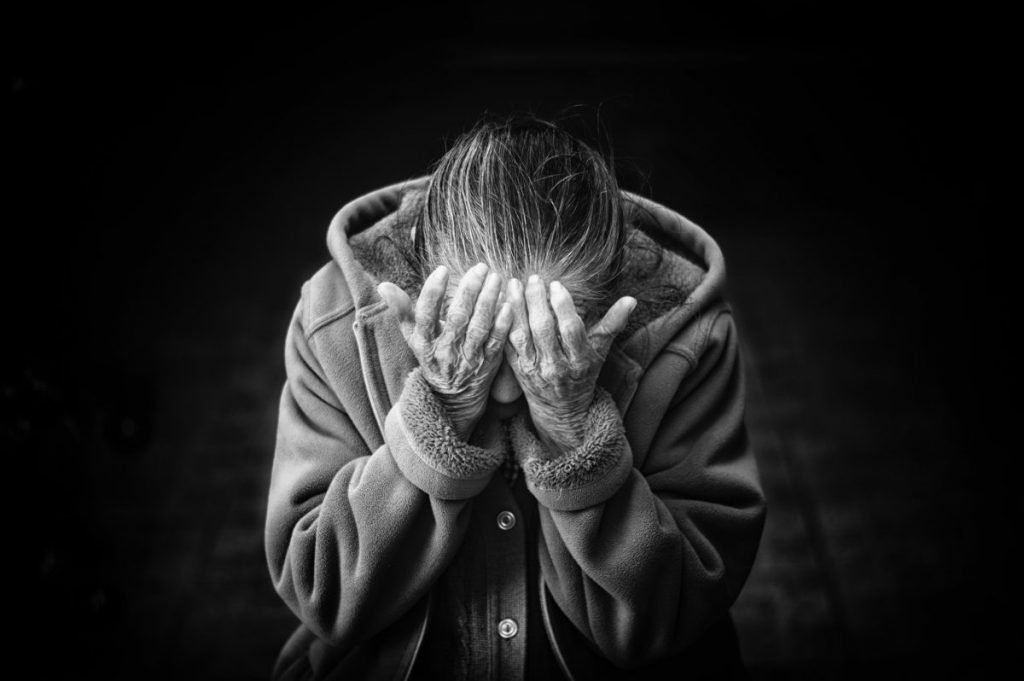 Psychedelics can facilitate healing by intensifying the emotions around whatever difficult issue is being – consciously or subconsciously – avoided. This intensification allows difficult and repressed emotions to be fully experienced and expressed, and in doing so to reach their natural conclusion. This can be understood in the processes by which psychological healing occurs – projection, transference, abreaction, and catharsis. In the context of a therapeutic trip, this means that someone experiencing difficult emotions or sensations should be encouraged to surrender to them, rather than resisting them.
2. People Heal Themselves
Noone can have an experience for anyone else. This is true of healing or perspective shifting experiences too. Each person must go through the process ultimately on their own and reach their own understanding, acceptance and resolution of any troubling issue. As such, a sitting role will usually be passive and supportive. Marc used a nice analogy for this: if you have a cut on your arm, you don't actively go about healing it. You clean the wound, patch it up, and then allow the healing to take place. Likewise, a sitter's job is to set and maintain the conditions conducive to the healing process – a safe environment that allows someone to heal themself.
3. Clearly Defined Boundaries Are Helpful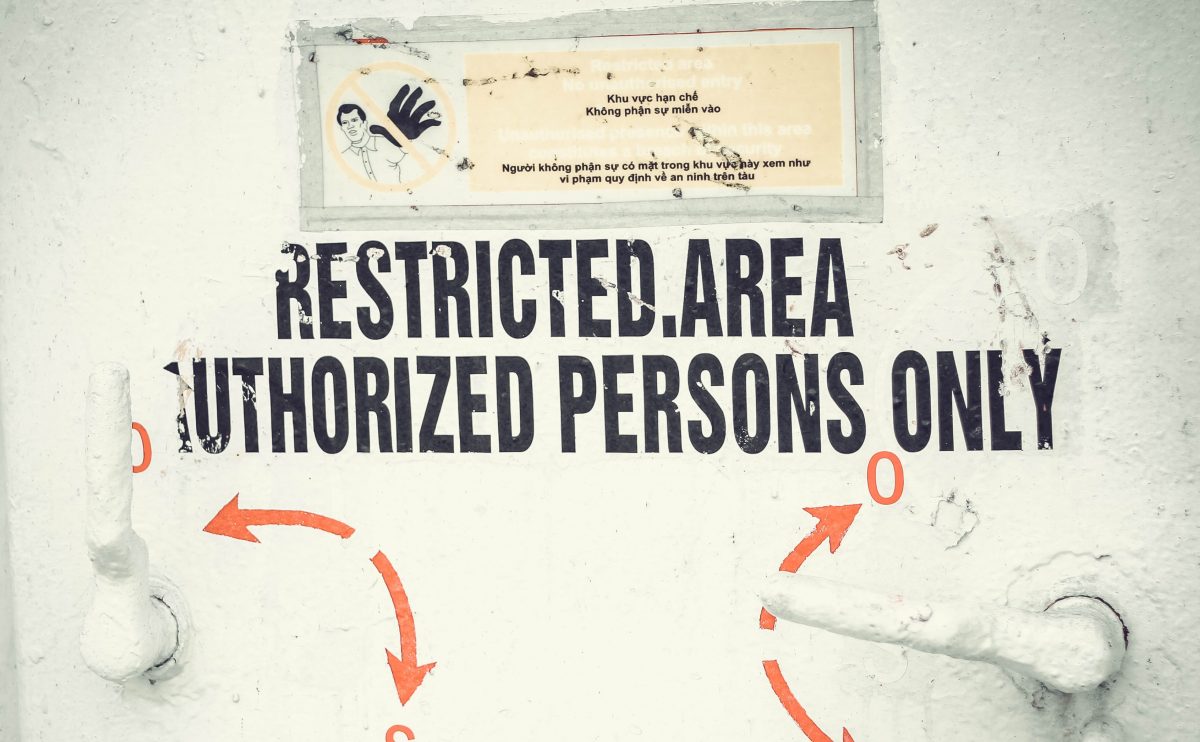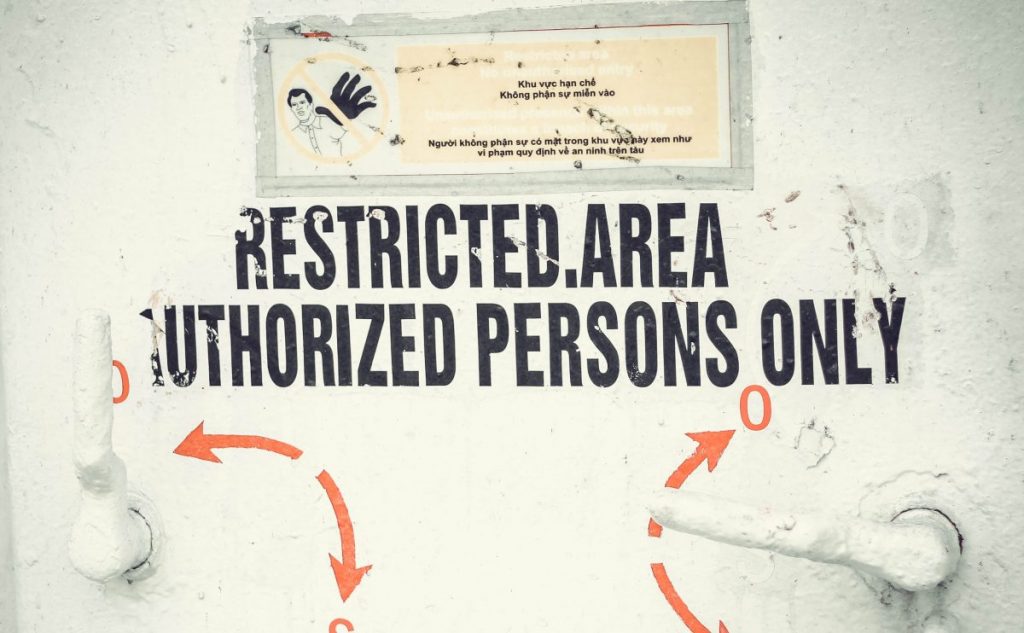 It is helpful to clearly define the 'rules of the game' ahead of a session: the level and type of interaction between the tripper and the sitter, who controls the choice and level of the music, what activities, if any, will be undertaken. Setting these boundaries in advance will encourage feelings of security and reassurance and help to create an emotionally safe space for the session.
4. The Approach Is More Important Than The Actions
A calm, centred, supportive approach is more important than what any guide or sitter can say or do. It's not enough to remember certain actions or follow a set routine, care giving and support goes beyond this – effective sitting requires intuition, compassion and a level of self-awareness.
5. Qualities That Make A Good Sitter Aren't Quantifiable
Trip-sitting isn't a science – it's a combination of an art and a science. Whilst a level of knowledge can be very helpful in some regards, the character and motivations of a sitter are more important. Marc made this point in a panel debate at the conference, explaining that he would much rather have a caring and honest carpenter looking after him than a fully-qualified psychologist who lacks these qualities.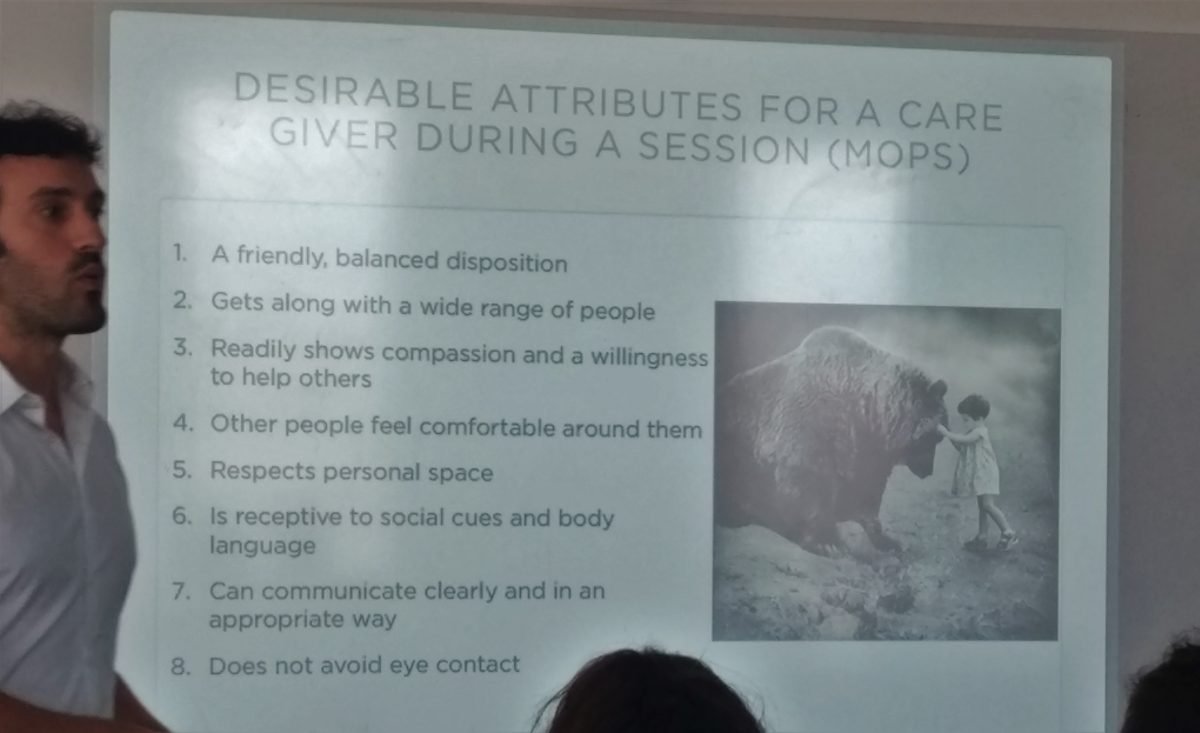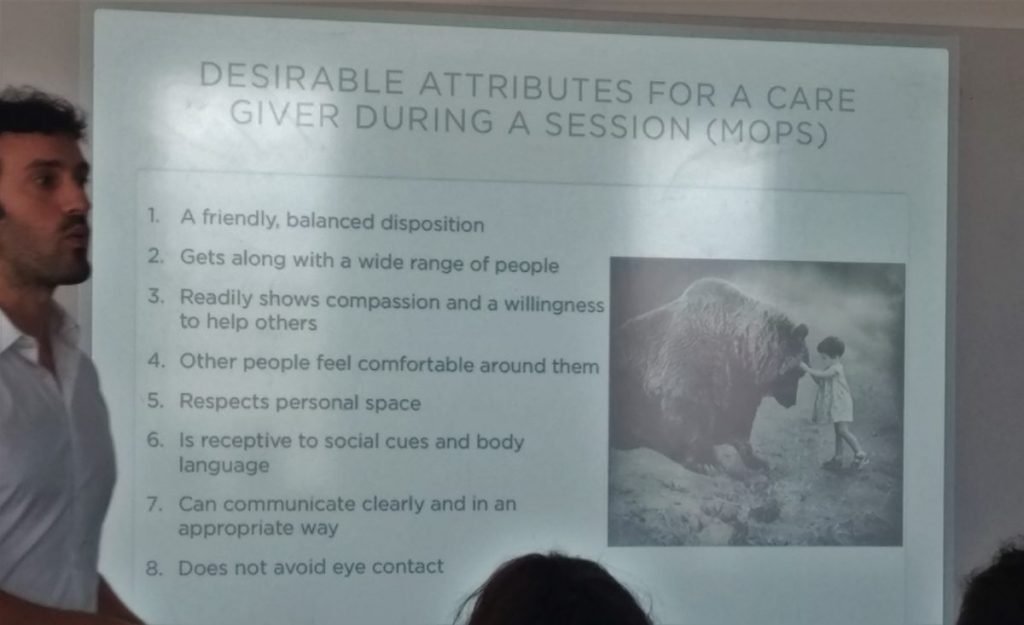 This poses a predicament for the psychedelic movement. If we see these substances legalised for health care and therapy, there will be questions over who can, should, or is qualified to administer these substances and oversee sessions. Some professionals in the field have already stated their belief that psychedelics sessions should only be overseen by qualified medical professionals.
But if the most important qualities are unmeasurable, it would be very hard for any regulatory body to award suitable qualifications or grant licenses to administer psychedelics. In a society and culture that doesn't like to believe in anything that it can't touch, weigh, measure or quantify – this will be a tricky issue. This is something that should be considered moving forward.
Brain Scan Qualifications?
Final, crazy idea. Could licenses be awarded based on brain scans? There have been studies on monks using fMRI and EEG technology that show links between brain activity and these, as yet, unmeasurable qualities.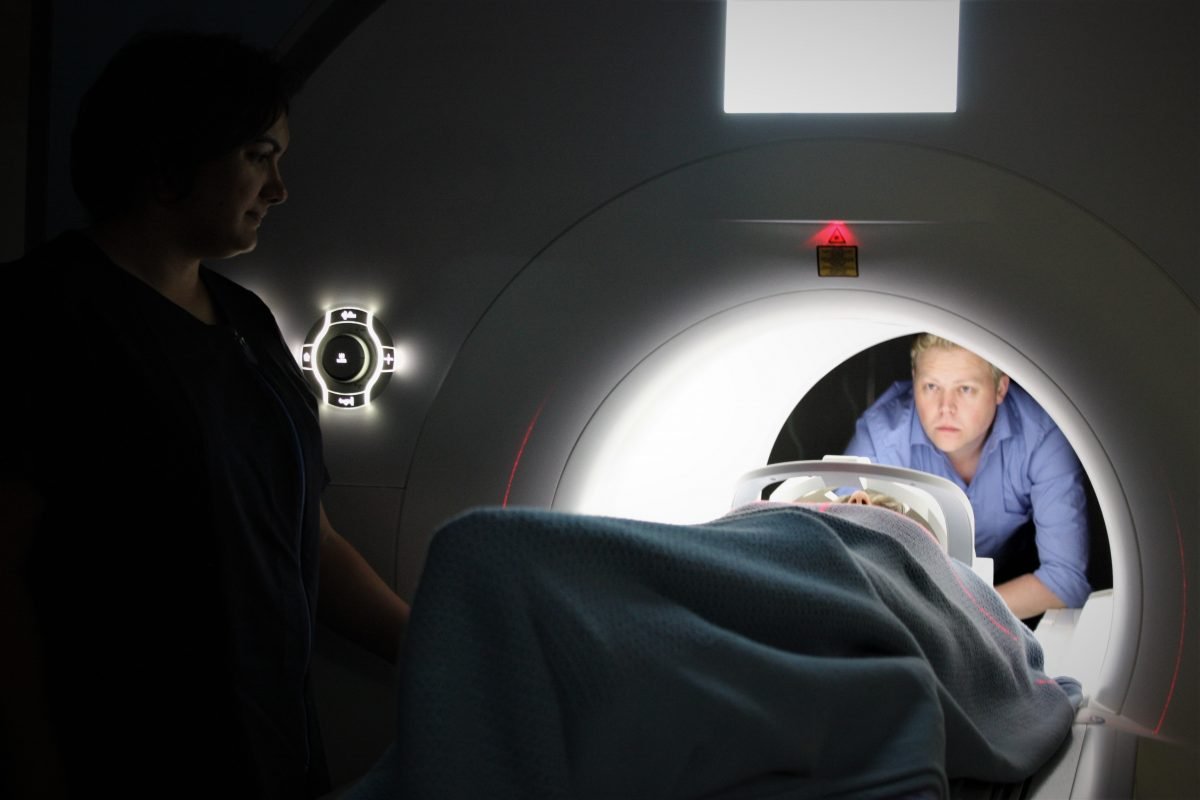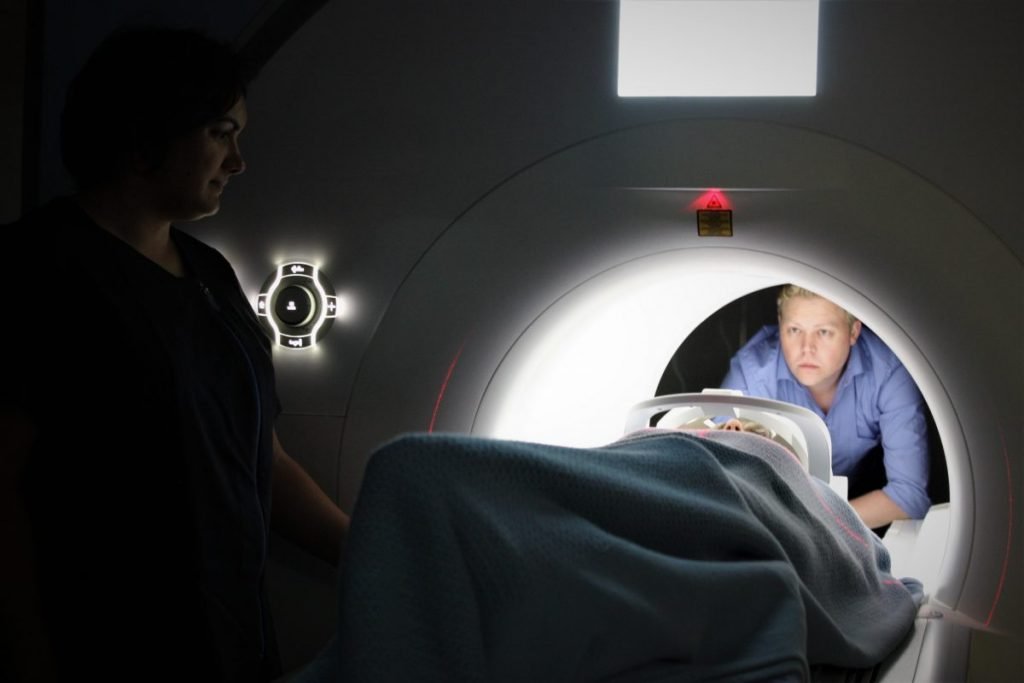 A qualification could be awarded based on the level of activity in your brain's left pre-frontal cortex compared to the right – a high level means you have a reduced propensity to negativity. Or perhaps a 'test' could be that you are wired up and asked to meditate on compassion. Your level of gamma waves – linked to consciousness and attention – would determine your 'score'. I expect monks would mostly be coming out with the top qualifications, but who wouldn't want a wise buddhist sage as their psychedelic guide? I certainly wouldn't mind.
– – – – – – – – – – – – – – – – – – – – – – – – – – – – – – – – – – – –
If you enjoyed this you might also wanna check out:
6 Steps For Helping A Friend Through A Bad Psychedelic Trip – Zendo Project on VICE
What it means to "hold space" for people, plus eight tips on how to do it well
The Sweetness Of Holding Space For Another
https://mapsofthemind.com/wp-content/uploads/2017/09/personality.jpg
736
1200
John Robertson
http://mapsofthemind.com/wp-content/uploads/2020/08/MAPS-MIND-LOGO-29.png
John Robertson
2017-09-29 11:03:48
2022-11-20 13:39:29
5 Things I Learnt From A Tripsitting Workshop